(LAKLAOS : (n.c..=non checké) www.tourismlaos.org indicatif = 00856 puis 2 chiffres pour la ville puis 8 chiffre
POUR TOUTES INFORMATIONS ET EXCURSIONS AU LAOS : THREELAND TRAVEL, Laos office 88/07 Ban Phonpheng, Phouvao Road, Luang Prabang, Laos PDR Tel: +856 71 252400 www.threeland.com ou ASIAREVEALTOUR¸ lieng@asiarevealtour.com;koud@asiarevealtour.com; phanh@asiarevealtour.com; xay@asiarevealtour.com; Thavinh M. Joy 02055570880
ou TREASURETRAVELLAOSManager Director Assistance siphone@treasuretravelLaos.comwww.TreasureTravelLaos.com
A Luang Prabang : Non testé par notre staff mais parraît-il magnifique : The luang say residence, the luang say lodge and cruises¸Cecile vong, office mgr., luang prabang, cecil@mekong-cruises.com ; www.luangsayresidence.com
Cruise : aussi The Vat Phou cruises, mekong cruises (n.c), southern mekong, www.mekong-cruises.com
Champasak Province (Sud du Laos) :
A Pakse : Champasak grand hotel (un peu à l'écart du centre, vue magnifique sur le Mékong, chambre spatieuse mais pas top quand-même pour un 5*) res@champasakgrand.com ;sales@champasakgrand.com ; www.champasakgrand.co
The panoramic boutique hotel : Pakse hotel, J érôme Letemplier, gen. mgr.¸mettasak phosanarack, fin. dir., pakse, info@paksehotel.com (superbe hotel situé plein centre, très bon restaurant), mieux au niveau du rapport qualité prix que Champasak Hotel
Une adresse pour la détente : Champasak spa, champasak, www.champasak-spa.com (n.c.)
Dans la région des cascades : - Tad Fane resort, champasak, info@tadfane.com;tadfane@hotmail.com; www.tadfane.com (n.c)
- Tadlo lodge, Champasak, souriyavincent@yahoo.com ; jean-francois.savary@wanadoo.fr ; www.tadlolodge.com, magnifique situation mais les chambres ne sont pas du 5*, dans un parc bordée d'une rivière avec de nombreux éléphant
Lors de votre visite à Champassak, n'hésitez pas à faire un stop détente au centre de massage de Nathalie (française) +8562056499739
HOTEL fort sympathique au sud du Laos :- Kingfisher EcolodgeBan Khiet Ngong (Phu Asa) - Champasak Province - Lao P.D.R. Tel: +856 (0)20 557 26 315, (0)20 996 71 574 -- Emailinfo@kingfischerecolodge.com www.kingfisherecolodge.com Mail: P.O. Box 190 - Pakse - Lao PDR Tel: +856 (0)20 55726315 - (0)20 99671574
Welcome to Champasak Province, the southernermost province of Laos, a place also known as the "Emerald Triangle" being the crossroad between Laos, Thailand and Cambodia, the newest travel destination in Indochina where it is still possible to see and feel the genuine lifestyle and natural beauty of this enigmatic Country. Our vision is to provide our guests with a comfortable, intimate experience with exotic nature in a unique environment such as in the northern wetlands of the Xe Pian NPA (Natural Protected Area) which is one of the most actractive of all of the NPAs scattered throughout the Laotian territory. We endeavour to do this in a way that is environmentally and socially responsible . Our ultimate goal is to meet the expectations of travellers looking for a different kind of tourism, by searching new feelings and reflections by experiencing unique and relaxing events like staring at a bright night stars parading in the tropical sky or just watching elephants and water buffalos grazing in slow motion while a far away flock of white birds plays in the distant blue skies of Laos.
New sounds, new sights and new lifestyles will be experienced daily and can be added to your life's knowledge of different lands and people... in a relaxed way just as relaxed as the rhythms of these place, where time is not yet a precious commodity and simple people still find a way to look inside as much as outside of themselves.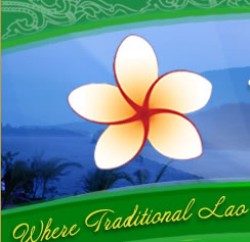 Champasak Grand Hotel

 Located along the Mekong River and in the City, is Pakse only Luxurious Deluxe Business Class Hotel. The Hotel is just 5 kms or 15 minutes away from Pakse International Airport with 225 well-appointed rooms and suites offering magnificent views of the River and City while 2 Conference rooms offer events of any occasion.in the true sense of luxury, we seek to exceed the expect action of our discerning guests with our traditional Lao Hospitality and relentless attention to detail. The Champasak Grand Hotel's rooms have earned a reputation as a ideal base for both business and leisure travelers. With a spacious floor area, tall ceiling, a luxurious bathtuand an elegant writing desk every rooms strike an ideal balance between comfort and practicaliRooms come with a King-size bed or two Queen-size beds for twin occupancy, All rooms are equipped with Internet accessibility, Satellite Cable TV, Coffee & Tea facilities and in room safety Deposit box. Guests enjoy the option of views across Mekong river for many event planners, Champasak Grand Hotel is where dreams become reality. Not only do we boast an incomparable range of facilities and venues, we also take pride in our team of event professionals that strive to be flexible, informed and helpful at all times. With the rapidly growing rate of investment and business travel in Laos, Champasak Grand Hotel understands the importance of providing reliable, professional and convenient business facilities. we offer wireless network throughout theotel, keeping our guests connected at all times.
Dream's feedback 

 :

Situé le long du fleuve Mékong et dans la ville, Pakse est un Business Class Hotel. L'hôtel se trouve à seulement 5 km ou à 15 minutes de l'aéroport international de Pakse, avec 225 chambres et suites bien aménagées offrant une vue magnifique sur la rivière et la ville. Dans le vrai sens du luxe, nous cherchons à répondre aux exigences de nos clients exigeants avec notre hospitalité Lao traditionnelle et une attention incessante aux détails. Les chambres du Champasak Grand Hotel ont acquis une réputation comme base idéale pour les voyageurs d'affaires et de loisirs. Avec une surface habitable spacieuse, un grand plafond, une baignoire de luxe et un bureau d'écriture élégant, chaque chambre offre un équilibre idéal entre le confort et la commodité. Les chambres disposent d'un lit king-size ou de deux lits queen-size pour une occupation double. Toutes les chambres sont équipées d'une connexion Internet , TV par satellite, cafetière et théière et coffre-fort dans la chambre. Les clients apprécient la  vue sur le fleuve Mekong, Champasak Grand Hotel est l'endroit où les rêves deviennent réalité. Nous sommes également fiers de notre équipe de professionnels qui s'efforce d'être flexible, informé et utile en tout temps. Avec le taux d'investissement et les voyages d'affaires en plein essor au Laos, Champasak Grand Hotel comprend l'importance de fournir des installations commerciales fiables, professionnelles et pratiques. Nous offrons un réseau sans fil dans tout l'hôtel, en gardant nos clients connectés en tout temps.
Dream's feedback 

 :
Address
Street:Lao Nippon Bridge Mekong Riverside Road,
Postcode:419
City:Pakse
State:Laos
Contact

King Fisher Ecolodge

 Simplicity is the word, simplicity helps loosen emotions and widen our mind, and with this word in our mind we tried to link the natural environment with the resort buildings, giving a priority to the first one in search of the right balance between human intervention and nature wonderful architecture. From the ideas of designer Vincent Fischer Zernin, traditional building materials and workmanship have been blended with modern concepts and architecture. The front wall of the rooms is entirely built by glass to give the opportunity to our guests to admire the landscape and the surrounding nature at any moment thus feeling an incomparable sense of spaciousness.  The hot water (solar powered) shower room, which is separated from the toilet area, is built to give the possibility to have a view through the front wall in the deep green and blue colour shades of the wetland. The bungalow's lighting is supplied by an individual solar system or directly connected to the hydroelectric powered grid. All rooms have a ceiling fan and electrical plugs.
Also available are our "Eco" rooms at an affordable price. All rooms have a view over the wetland and they are built by wood and bamboo while lighting is supplied by a mix of solar system and grid electricity.
All rooms have a wall fan and electrical plug. No television or music is available at Kingfisher Ecolodge because we believe that the wetland's sound of nature is the best soundtrack for our guests. At Kingfisher Ecolodge it is possible to connect to the internet (Free of charge) and to do international phone calls
Dream's feedback 

 :

La simplicité est le mot, la simplicité aide à desserrer les émotions et à élargir notre esprit, et avec ce mot dans notre esprit, nous avons essayé de lier l'environnement naturel avec les bâtiments de la resort, en accordant une priorité à la quête du bon équilibre entre l'intervention humaine et l'architecture magnifique de la nature. À partir des idées du designer Vincent Fischer Zernin, les matériaux de construction traditionnels et la fabrication ont été combinés avec des concepts et une architecture modernes. La façade des chambres est entièrement construite en verre pour donner l'opportunité à nos invités d'admirer le paysage et la nature environnante à tout moment, d'ou un sentiment d'espace incomparable. La salle de douche à eau chaude (solaire), qui est séparée de la zone des toilettes, est conçue pour donner une vue à travers la paroi avant dans les nuances de couleur vert foncé et bleu de la zone humide. L'éclairage du bungalow est fourni par un système solaire individuel ou directement relié à la grille hydroélectrique. Toutes les chambres disposent d'un ventilateur de plafond et de prises électriques.
Aussi disponibles nos chambres "Eco" à un prix abordable. Toutes les chambres ont une vue sur la zone humide et elles sont construites par le bois et le bambou tandis que l'éclairage est fourni par un mélange de système solaire et d'électricité électrique.
Toutes les chambres disposent d'un ventilateur mural et d'une prise électrique. Aucune télévision ni musique n'est disponible chez Kingfisher Ecolodge parce que nous croyons que le son de la nature des zones humides est la meilleure bande sonore pour nos invités. Chez Kingfisher Ecolodge, il est possible de se connecter à Internet (sans frais) et de faire des appels téléphoniques internationaux.
Dream's feedback 

 :
Address
Postcode:190
City:Pakse
State:Laos
Contact